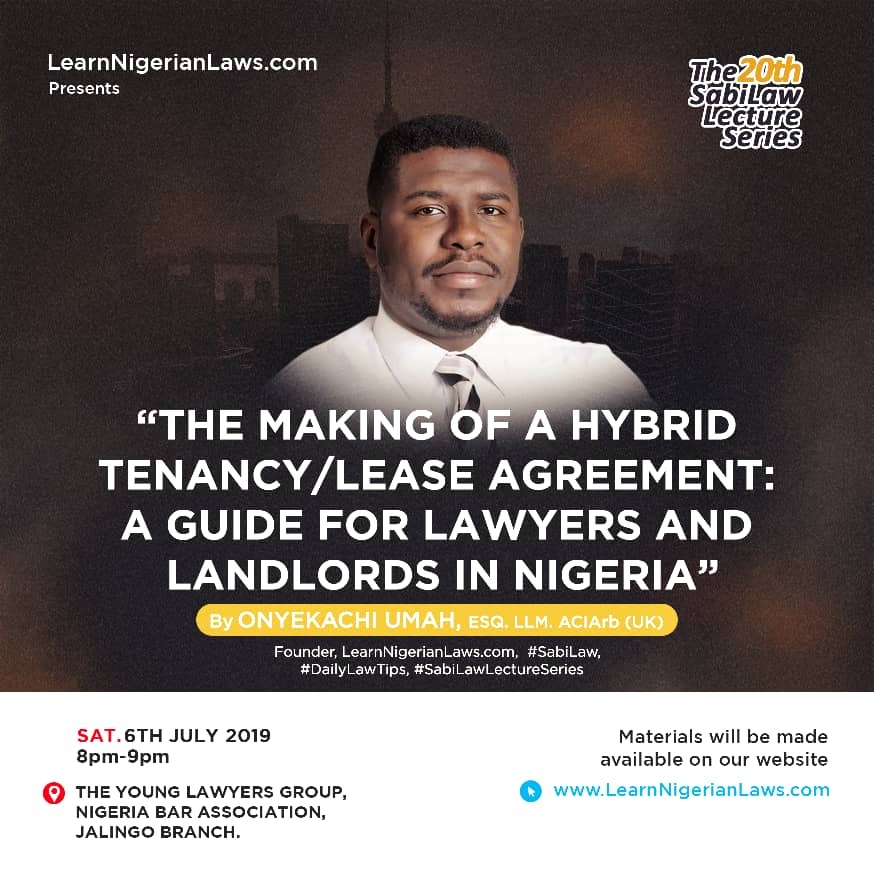 THE 20TH SABI LAW LECTURE SERIES is titled "THE MAKING OF A HYBRID TENANCY/LEASE AGREEMENT; A GUIDE FOR LAWYERS AND LANDLORDS IN NIGERIA". It will be delivered by Onyekachi Umah, Esq. LL.M, ACIArb(UK) at the Young Lawyers Group, Nigerian  Bar Association, Jalingo Branch by 8:00 pm on 6 July, 2019.
OBJECTIVE OF THE 20TH SABI LAW LECTURE SERIES
This lecture will usher in the HYBRID TENANCY AGREEMENT designed to protect landlords and their investments.
"Trust" is lacking in many transactions across the world and for obvious good reasons. Real estate investment in Nigeria (particularly, renting/leasing) has arguably not being very fruitful owing to breach of tenancy, high cost of litigation and slow justice system. So, having an agreement that protects landlord and his property when there is a breach and also saves them from costs of litigation and loss of revenue will be a saviour. 
Lecture Material will be available for free downloads from this website under the Lecture Series Page during and after the lecture.
#SabiLaw
#SabiLaw
#SabiLawLectureSeries
#LearnNigerianLaws