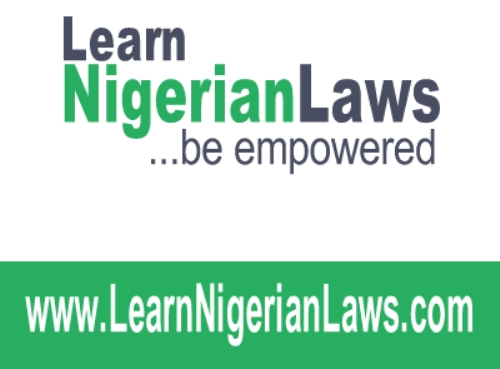 LearnNigerianLaws.Com in 2016 published and circulated for free over 10 law articles on WILLS, MARRIAGE, LAND, NBA STAMP, CONTRACT, TENANCY, BUSINESS, BOUNCED CHEQUE AND TRADEMARKS. They were written in simple English without law jargons, for easy understanding of none-lawyers. Below are links to 10 law articles as published on www.LearnNigerianLaws.com 
 Please read and be empowered!
Click on each article to read. Feel free to share!
  HOW TO RECOVER PROPERTY OF THE DEAD IN NIGERIA. (A legal guide on Probate Matters in Nigeria)  https://sabilaw.org/index.php/law-articles/family-law/21-how-to-recover-property-of-the-dead
  HOW TO BE LEGALLY MARRIED IN NIGERIA
https://sabilaw.org/index.php/how-to-be-legally-married
  LEGALITY OF GOVERNMENT'S COMPULSORY ACQUISITION OF LAND AND PAYMENT OF COMPENSATION
https://sabilaw.org/legality-of-government-s-compulsory-acquisition-of-land-and-payment-of-compensation/
PROCEDURE AND REQUIREMENTS FOR OBTAINING NBA LAWYERS'STAMP, INSURANCE POLICY AND OTHERS.
https://sabilaw.org/procedure-and-requirements-for-obtaining-nba-lawyers-stamp-insurance-policy-prepaid-cards-lawyers-verification-exercise
  BOUNCED/DUD CHEQUE AND ITS LEGAL CONSEQUENCES IN NIGERIA- LearnNigerianLaws.com
https://sabilaw.org/bounced-or-dud-cheque-and-its-legal-consequence
  RIGHTS OF A TENANT IN NIGERIA.
https://sabilaw.org/rights-of-a-tenant
   RIGHTS OF A LANDLORD IN NIGERIA.
https://sabilaw.org/rights-of-a-landlord
HOW TO REGISTER A BUSINESS NAME, A PARTNERSHIP ANDA COMPANY IN NIGERIA
https://sabilaw.org/how-to-register-a-business-a-partnership-and-a-company
REGISTRATION OF TRADEMARKS IN NIGERIA.
https://sabilaw.org/registration-of-trade-marks
HOW TO WRITE AGREEMENTS (CONTRACTS)
https://sabilaw.org/how-to-write-agreements-contracts

 



Join us every month as we publish for free, easy to understand law articles on areas that affect the ordinary man. Our publications are for the general public; none-lawyers and lawyers. It is our vision to enlighten all Nigerians on Nigerian laws to build a safer, more informed and accountable Nigeria. We wish you a fruitful new year; 2017.
Thank you.
Onyekachi Umah, Esq. ACIArb(UK)
Founder and Senior Contributor
LearnNigerianLaws.Com
08037665878
Follow us on facebook; https://www.facebook.com/LearnNigerianLaws/
Follow us on Twitter: https://twitter.com/LearnNigeriaLaw