Kenechukwu Agwu Talks on Medical Negligence.
Today, Tuesday, the 18th of May at 6:30pm Kenechukwu Agwu, Esq., Executive Secretary, Sabi Law Foundation and Project Officer NULAI Nigeria will be on Africa Independent Television (AIT) to discuss medical negligence.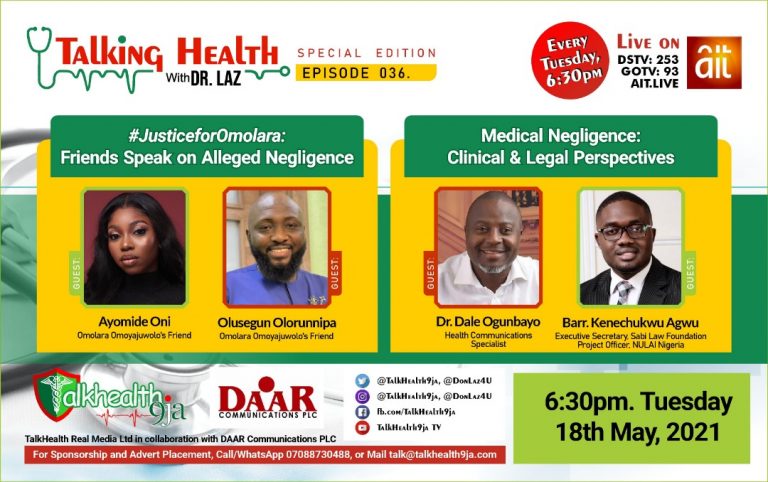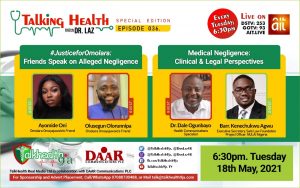 He will alongside Dr. Dale Ogunbayo a health Communications Specialist be discussing the topic "Medical Negligence: Clinical & Legal Perspectives" during the TV show " Talking Health with Dr. Laz".
The death of Peju and Omolara has once again brought the issues of Medical Negligence in Nigeria to the front burner. Join in the conversation they x-ray the perspectives on #JusticeforOmolara.
Sabi Law Projects:
#SabiLaw
#DailyLawTips
#SabiBusinessLaw
#SabiElectionLaws
#SabiHumanRights
#SabiLawOnTheBeatFm
#SabiLawLectureSeries
#CriminalJusticeMonday
#SabiLawVideoChallenge
To receive free Daily Law Tips, join our free WhatsApp group via https://chat.whatsapp.com/L7h4f1exItZ38FeuhXG4WN or Telegram group, via the below link: https://t.me/LearnNigerianLaws
To keep up to date on all free legal awareness projects of Sabi Law Foundation, follow us via
Facebook Page:@LearnNigerianLaws,
Instagram:@LearnNigerianLaws,
Twitter: @LearnNigeriaLaw,
YouTube: Learn Nigerian Laws,
WhatsApp Groups via (https://chat.whatsapp.com/L7h4f1exItZ38FeuhXG4WN),
Telegram Group: (https://t.me/LearnNigerianLaws),
Facebook group: (https://www.facebook.com/groups/129824937650907/?ref=share)
or visit our website: (www.LearnNigerianLaws.com)
Call for Legal Awareness Articles in English or Pidgin Languages.